Bird's Nest Alumni丨Twenty No Doubts & Twenty Gains
Yifan Zhang
Birth Date:2000/04/21
Riding Experience:10 years+
Current Residence:Holland
University:University of Amsterdam
Adult ceremony -- the first bird's Nest Grand Prix
The first time I participated in the Longiness Beijing Equestrian Masters was in 2013. At the age of 13, I participated in the U15 Junior competition and the 100CM level. Four years later the coach gave me a bar mitzvah present: Jumping for the Grand Prix! With joy and unease I asked coach are you sure that I can do it? The coach said yes. I kept telling myself That I could. After that, training took up most of my time. I was both nervous and excited. That time, my performance of "Pangpang" was very good. I finished the competition with 4 penalty points.
"Short track or long run" is up to me
On the road of equestrianism, I am making progress all the time. I am not surviving but enjoying it, because what I do is what I like.
My parents are my fellows, distributors and supporters on the road of equestrian. They never give me any pressure or demands on either study or riding but just tell me to do what I like and learn to enjoy and love life.
Of course, every step of my career would not be possible without the promotion of my coach. I have great trust in his professionalism and respect for his opinions. He also understands my thoughts and feelings on the horse, which I think these are the foundation of my confidence during competitions.
My Bird's Nest Masters calendar
7 consecutive years since 2013 participating in the Longiness Beijing Equestrian Masters, for me, the competition is an important festival. No matter where I am, I am always willing to participating in the festival every year. Over the years, riders are becoming more and more competitive, and competition are growing more and more challenging.For all domestic riders and their horses, these are a very special feeling.
The most unforgettable thing in the Bird's Nest is to stand on the podium every time! Words cannot sum up the excitement and pride.
Academic & Equestrian, neck and neck
Now I'm in college in The Netherlands, so I don't always have classes all day. I can basically train four or five days a week. It's about an hour and a half from school to the stables. I am a student, so is academic, the first is to ensure the high quality and finish it on time, if there is a important examination, will be suspended for a period of time training to prepare for the exam, occasionally ask for leave because of race, but I still try to keep their studies, I have several times to spend two hours back from the field to go back to playing game after school. Study is what I have to do, and riding is my favorite sport. There is no conflict. Just try to improve efficiency and balance, thanks to my parents' uncomplaining support and company.
The future is not more predictable
I should come back after graduation, but I have so much to learn at the moment. As for the future, I haven't really thought about it. If I can have a job that I like and ride a horse at the same time, that would be my ideal state. I usually don't have a big plan, but I will know my competition plan for the next 3-6 months and make a time management for my study and life. Seize the moment, do the things of the moment is the most important.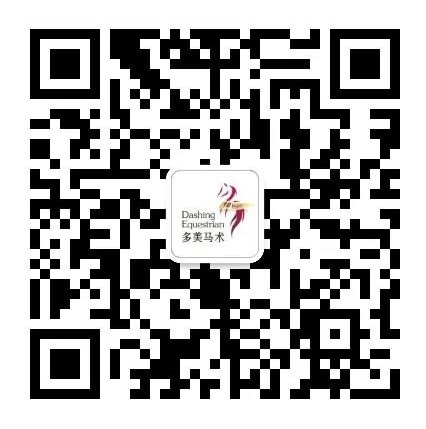 Scan QR Code|Join Dashing Alumni
WeChat|Dashing2011
Tell us your story,and get your exclusive certification